About Us
We are genuine producer of hand carved organic piercing jewelry from Bali-Indonesia. My name is I Wayan Parnata. I am married to Ni Kt Supariatni and we have three baby boys. I own and manage Tindik Jewelry – Bali.
I am the creative force for most of the jewelry designs. With the help of friends and family who are talented carvers from my village and the surrounding area, we create very beautiful jewelry that your clients will treasure.
My father was the pioneer bone carver in our village and many members of my family continue with that tradition. Before I started this business, I went to the university and got my degree in 1997 with a major in English. I then worked with an American cruise line called Windstar Cruises for 8 years. I was able to acquire some capital to support this business and learn business management, Internet and modern multimedia. It also afforded me the opportunity to see many places in the world.
My hope is our carving skills can can be built into a profitable venture that will provide a future,education and support for their families.
Some important info for my Web site visitors :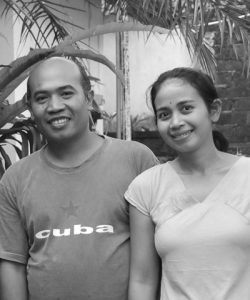 I don't just make web site and cheat other designs ,photos and styles but I am a real producer, and working directly with carvers around my village, I have a strong work relationship with all of my carvers with well production management system, well payment system.
So we can make anything we want, as long as they make sense in hand carved aspect. I am Wayan "Gelnik" Parnata , manage all of the production, starting from making layout of the products, make creative designs, get the materials and suppliers, like bone,horn-wood etc, distribute the designs for each carvers as each of the carvers has different talent and styles. some are good at making spirals , some are good at making floral etc. made this web site at 2008. and marketing the products.
I currently work with about 20-30 team carvers.  depend on how big order we have. so we thank you for all the support for our business and their families.
Best regards from Me Wayan "Gelnik" Parnata and team carvers.